Our animals are sold on a first come basis with receipt of a deposit. We will gladly test any animal for disease at the buyers expense. A $50 deposit will hold your animal until the test results are received if a test is required. Upon a negative report, further arrangements need to be made for pickup. Deposits are forfeited if arrangements are not made within 30 days.
Sales List:
2014 Nigerian Dwarf Buckling:
Old Mountain Farm Palindrome x Buttin'Heads Passive Ristraint (Dry Leg) $400
Passi has her Jr Leg, and is an excellent milker.  She holds her udder high and wide.  This is a picture of Passi being shown at the Washtenaw County 4H fair July 2014.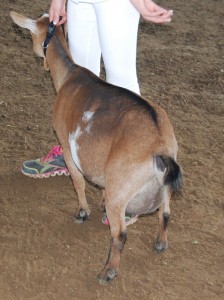 ---
2015 Oberhasli Buckling:
Buckling from a first freshener that is line bred on GCH Buttin'Heads Supermoist *M
http://www.adgagenetics.org/PlannedPedigreePrint.aspx?SireNum=B001607550&DamNum=B001630443
Supermoist can be seen here:
http://www.buttinheads.com/Obe_milkers/supermoist.htm
Buttin'heads Sugar Buzz *B x Dairylicious CZ Sable Joi
---
Don't forger to look at our kidding list and request a reservation!